Jeff Smith has been testing cows with Dairy One for over 30 years. He started his career as a DHI technician and today manages the north country region of New York as a Dairy Records Service Manager. Jeff manages a team of 6 DHI technicians that provide DHI and records services to farms in Clinton, Franklin, St. Lawrence, Jefferson, and Oswego counties.
The North Country DHI team works with farms of all sizes and milking styles. However, the average herd size of farms in this area is just under 400 cows, higher than many of the other regions Dairy One services. "Because of the type of farms we service in this area, we figured out quickly in the late 90's and early 2000's that we would need to really highlight the value of DHI records to farms because most of them now get their own daily milk weights," Jeff explains.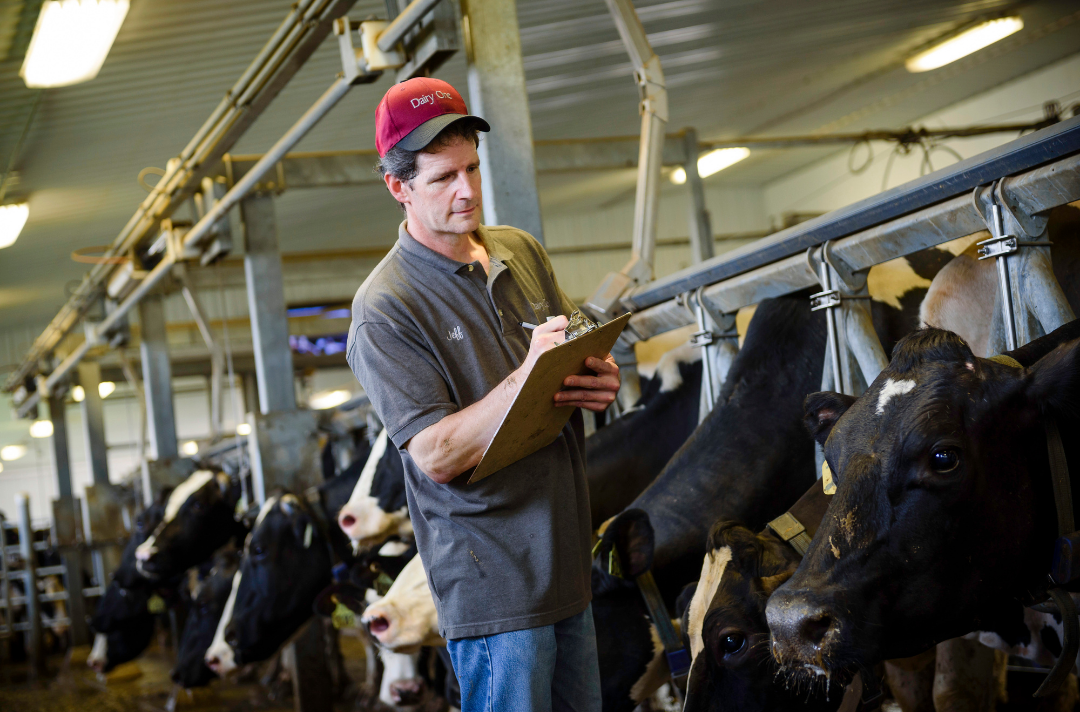 The valued added services Jeff's team provides look different on every farm. For some farms this is flexible milk pregnancy testing on and between test days. For others it might be Johne's testing or milk culturing services. For most, it is a combination of these additional analyses paired with custom DHI reports that provide the farm with information they may not otherwise have access to.
Making strides with SCC
"Personally, I really enjoy working with SCC (somatic cell count) information," says Jeff. "It's something I have a strong understanding of and interest in." Some of the SCC reports Jeff likes to pull for farms are the percentage of chronic SCC cows, percentage of new SCC contributors, percentage cured, percentage clean, and percentage of fresh cows that are clean. He uses an SCC standard of 200,000 for these reports. It's not uncommon for Jeff to print off reports himself when test day results become available, write a brief summary for the farm, and hand deliver it back to them.
Jeff says that when he began his DHI career, most of the farms he worked with were averaging SCC of 400,000 to 500,000. Today, the majority of the herds he tests have SCC right around or below 100,000. "I've been amazed by the progress the herds I work with have made in this area in the last 25 years. That progress is what makes every day exciting for me."
Testing interval matter
This isn't a change that happens overnight though. "You really need to want to do better to see that kind of change," Jeff explains. Part of that commitment to do better includes regular testing. "One test is not going to give you an accurate picture," says Jeff. He recommends that farms test once a month for at least 3 consecutive months to establish an accurate baseline of what the herd looks like and where the problems are.
Although there is no requirement to test on a set interval, Jeff and other experienced DHI professionals would say that a 90-day test interval isn't optimal. The more frequently a herd can be tested, the more valuable the information will be. There a number of examples of farms that have increased the number of times they test a year and as a result have seen their SCC drop and components increase. Jeff remarks that he had one farm testing 6 times a year with an average SCC of 320,000. They increased their tests to 9 times a year and saw SCC drop to 250,000.
For Jeff, the commitment to producing higher quality milk is no different than the commitment it takes to be a better farmer. "I always wanted to be farmer. It wasn't in the cards for me, but I enjoy working with farmers because its one of those careers where, for the most part, you get out what you put in," Jeff says. "If a farmer gives it their all and is really committed to progress, they'll find some form of success. It's
not unlike the job I do, and those are the types of people I enjoy working with."
Satisfaction from farm success
Although Jeff admits that, like farming, testing cows is not an easy job, its worthwhile when you're truly invested in the success of the farms you work with. "When I leave any farm I know that they know I genuinely care about their success. It doesn't matter if they're milking 20 cows or 4,000 cows." Jeff's jobs satisfaction comes from watching his farms succeed. "It's like watching your family succeed," he says. "A lot of the farms in this area have really only had 2 people provide DHI services in the last 80 years. We really become a part of the farm. Their success is our success."
While Jeff's commitment to his farms in admirable, it's not unique when you look at the rest of the Dairy One field staff. As Jeff will tell you, providing DHI services is hard work. In order to be successful you must be committed and you must love what you do. This type of service and commitment is something our entire DHI field staff prides themselves with.
If you're interested in learning more about Dairy One's DHI record services, email [email protected] or call 607-252-7575.
Interested in a career in DHI records? We are hiring Dairy Records Service Specialists across the Northeast! Learn more here. A full listing of career opportunities can be found here.
---
Interested in getting more updates like this one sent right to your inbox?