June is Dairy Month, and since we have dairy literally in our name, it stands that we would support this industry. From soil and forage analysis, through milk testing, herd management records and technology solutions for farms, Dairy One adds value to farmers in many aspects of modern milk production. Tune into the following sections for more information about how Dairy One works to support the dairy industry.
Analysis of Milk
The primary service Dairy One provides to dairy farmers is DHI records service and milk testing. Farmers who want a regular records service, on-farm work lists as well as other reports and who also want individual milk weights and samples receive a visit, usually about once a month, from a DHI Field Technician. This individual collects a milk sample from every cow on the farm. The herd sizes can range from one cow to 10,000 in the Northeast, so that's a lot of milk samples. All these samples end up in Ithaca, NY in the Milk Laboratory. Once there, milk samples can be analyzed in a variety of ways to provide information to make better decisions.
Aside from looking at milk samples for fat, protein, and other components, Dairy One also provides health screen tests. Milk pregnancy tests help dairy farmers know which cows are pregnant and which are not, which affects milk production. Additionally, the Animal Health Diagnostic Laboratory can test for Johne's Disease, Bovine Viral Diarrhea, and Mycoplasma bovis. All these diseases can lead to large problems for a milking herd, so farmers are dependent on accurate results to ensure their cows receive treatment and care quickly.
Insights into Feed
In addition to milk testing, Dairy One can provide an analysis of the feed that dairy farmers give to their cows. The level of nutrients such as crude protein, NDF, ADF and minerals in the diet affect her milk production, much like how human athletes must monitor what they eat for optimal performance. Dairy farmers work with nutritionists that provide recommendations for what cows should be eating. Feed analysis tests will confirm the nutrient makeup of what the cow is eating, and that it follows the nutritionist's feeding plans.
Monitor Cow Herd and Barn
Dairy farmers can't be everywhere at once in their barns. Plus, there are many parts to a farm – the milking parlor, sick pen, calf barn, machine shop, milkhouse, and many others. However, by working with Dairy One's Integrated Farming Solutions (IFS) team, dairy farmers can monitor their farms, even when they're not there.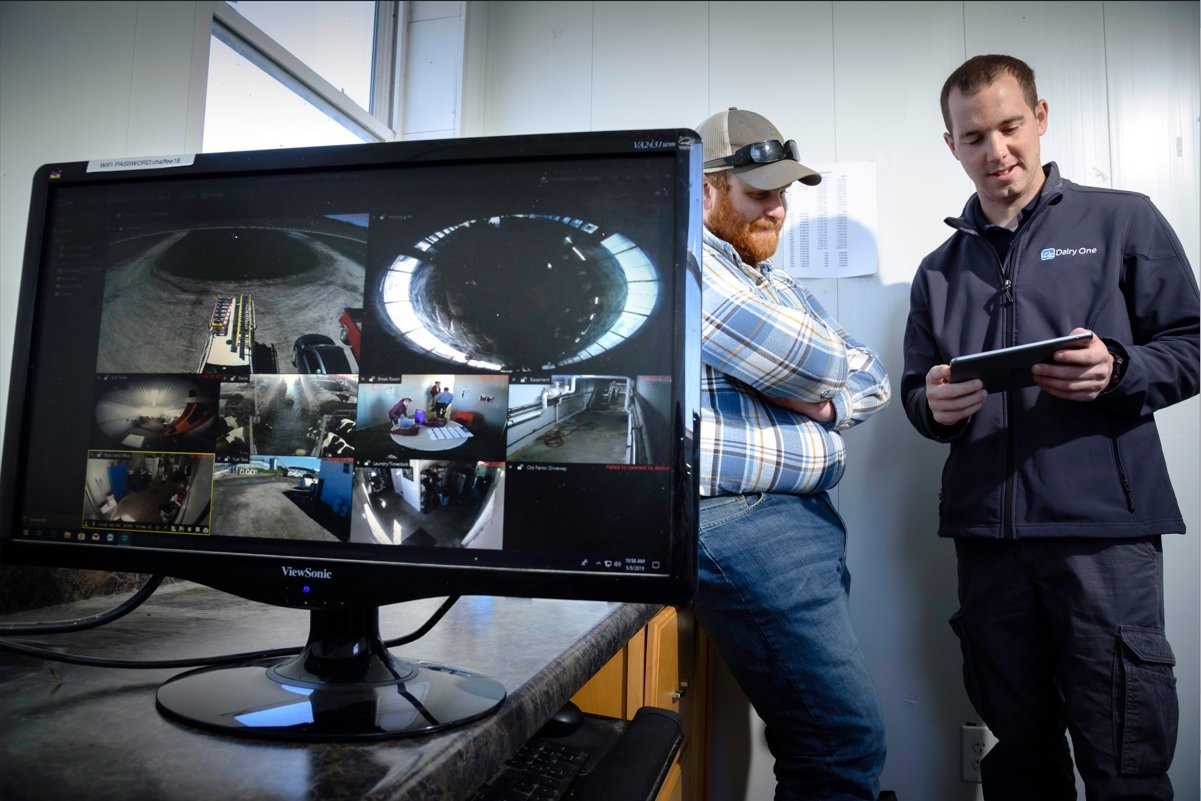 The IFS team provides many different technology support tools for farmers. One item is cameras that can be placed around a farm to monitor animals and ensure they are being properly cared for. Another tool is herd management software, like BoviSync, which can track every individual cow on a farm, and when they receive vet care or a health check. Feed management software, such as Feedlync, will help farm employees make the correct feed ration for a cow. Additionally, the IFS team provides software support to farms to keep their operations running smoothly every day. It's a lot of work caring for cows, but technology is progressing to make it easier!
Follow Environmental Regulations
Cows produce manure, a lot of it, and dairy farmers don't let it sit in the barn for long. A build-up of manure can cause many health and safety issues in a barn, so most farms have a manure storage facility to hold the manure until it can be applied to a field. Many states regulate the management of manure, and that's where members of Agriculture Consulting Services (ACS) can step in to help dairy farmers.
The ACS team provides nutrient management plans to dairy farmers to follow environmental regulations. For instance, New York State does not allow farmers to apply manure to a field in the winter unless it is an emergency. ACS will work with dairy farmers to ensure they have enough manure storage space to hold what the cows will produce in a set period. Dairy farmers are very attentive to the environmental impact of their farms and many work with ACS consultants to optimize their use of manure on fields. Ultimately it will serve as a good fertilizer source for crops the following year.
These are just a few ways that Dairy One supports dairy farmers all year. For more information about our services, call 800.344.2697 or email [email protected].