Laurelbrook Farm in East Canaan, CT is home to 1,300 cows and four generations of the Jacquier family. Shelby Jacquier returned to the farm in the spring of 2020, joining her brothers; her uncle, James "Cricket" Jacquier; and her grandfather, Pete Jacquier. While it wasn't her intention to return to the farm after college, she ended up back at home like many 2020 graduates after graduating from Cazenovia College with a degree in Equine Business Management.
In her role, Shelby is responsible for managing inventory, people, and cows. She usually starts her day reviewing data in DairyComp, the farm's herd management software, and their activity monitoring system to plan out her schedule. Tools such as a problem cow list allow her to prioritize what things need her attention, like a cow with a drop in production. "I really rely on those tools," Shelby explains. "Last summer there were a few days where we lost power and I was honestly lost. It was a little embarrassing."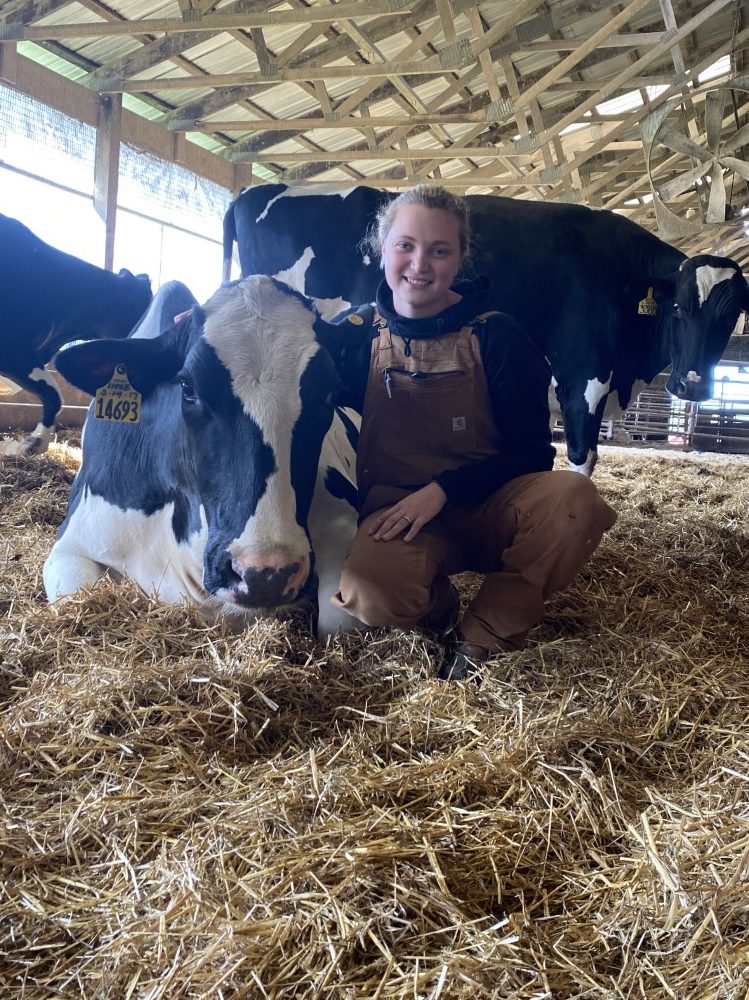 The dairy industry is not unique in that its younger generations are far more reliant on technology than their predecessors. "Cricket normally does pregnancy checks and he uses a clipboard and paper," Shelby says. "He'll be squinting and trying to read someone's handwriting. I always think to myself 'there has to be a better way to do this".
For a generation like Shelby's that has grown up using technology, the "better way" is herd management tools like DairyComp, Pocket CowCard, or the VAS Pulse Platform. All three tools allow Shelby to access different levels of herd information. With Pocket CowCard or the Pulse Platform, she can even access this information cowside.
"I love the cow card view," says Shelby. "If I'm looking at a cow I can really quickly find out things like how many times she's been bred or if she's been sick. It's all right there for me and easy to flip through." Shelby admits that she still is a bit of a novice DairyComp user and sometimes struggles to find the correct commands but is eager to learn. She's not afraid to ask for help from others on the farm or the Dairy One support team.
Another tool that Shelby relies on is the farm's camera system. With her house being pretty close to the farm's calving pen, it's not uncommon that Shelby will hear something in the night. Instead of having to go out to the barn and see what's happening, she can easily pull up the app on her phone to check in on things. She also likes having the ability to playback information or zoom in on specific time stamps.
Though Shelby has taken a clear interest in the technology on the farm, she also sees a lot of value in the knowledge and experience her uncle and grandfather bring to the business. Shelby's grandfather, Pete, has served on the Dairy One Board of Directors since 1987. Technically retired, Shelby says he's more active than ever on the farm "We joke that he retired from 70 hours a week to 120," she says. "He is honestly the glue that holds the farm together. 100%, no questions asked."
Shelby's uncle, Cricket, has worked with Dairy One for a long time as well. For him, one of the greatest values Dairy One brings to the farm is support. "So much of what we do on the farm is reliant on the systems Dairy One has built for us," Cricket explains. "If we have a problem with almost anything, I can just call Dairy One and they will likely be able to fix it."
Cricket is also an avid user of Dairy One's support app. Cricket submits his questions using the app because he knows it's the fastest way to get in touch with the first available person who can help him. "There is a lot of expertise on the Dairy One team and the app is a great way to tap into all of that," he says.

Did you know that if you receive your DairyComp through Dairy One you have access to unlimited support? If you need additional training in DairyComp reports or help setting up your VAS Pulse Platform (also free for DairyComp users) contact our support team by calling 607-375-9963 or emailing [email protected].