Whether you are growing fruits and veggies in your garden or planting fields of crops, knowing the nutrient content of your soil is key to optimum plant performance. Over or under application of essential plant nutrients can be costly in terms of yield, quality, and the environment. If you're unsure about how to submit a soil sample, check out some of these commonly asked questions.
What information is needed to submit a soil sample?
When submitting a soil sample, you'll need to have these key pieces of information for your sample submission form:
Plant name
Crop Code
Soil texture
Soil drainage
For more information on which soil sample submission form or crop code to use, or how to prepare your sample, visit our Submitting a Sample page.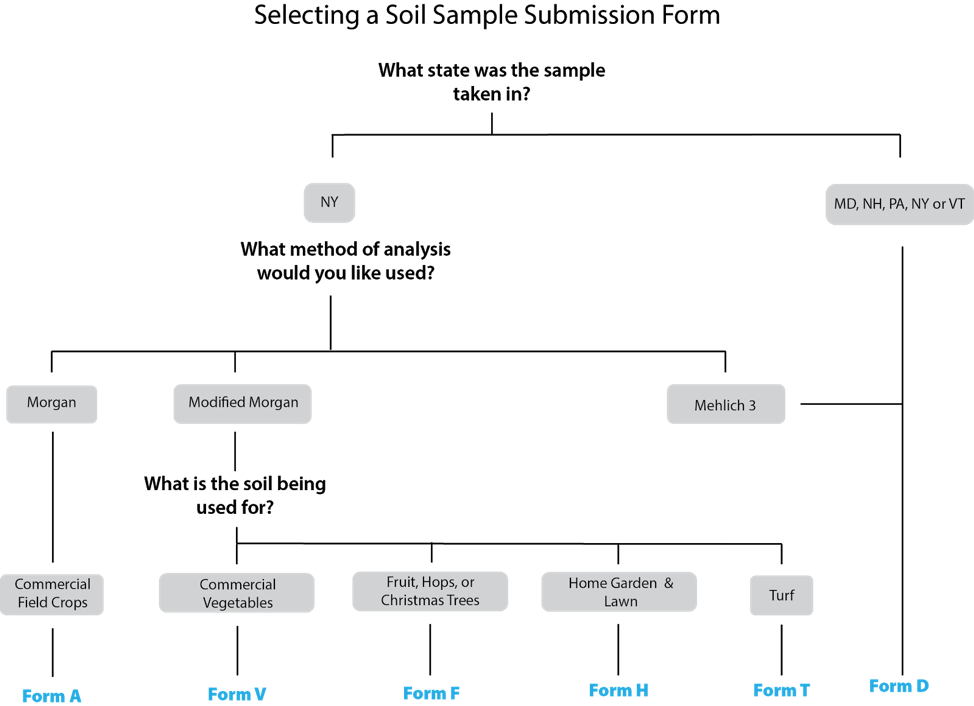 How can I determine the soil texture and drainage?
If you aren't sure about the texture and drainage of your soil, use these tips from our Customer Support team as a guide:
Texture
Sandy = Does not conform to a ball easily, sandy to touch, sand grains visible
Loam = Conforms to a ball, spongy, smooth feel, no sandiness, or silkiness
Silty = Conforms to a ball, very smooth to silky
Clay = Conforms to a plastic feeling ball, smooth, easy to manipulate
Drainage
Excellent = No issues, hardly ever any puddling
Good = Drains well, normally does not puddle up
Fair = Drains OK, but with puddling
Poor = Drains poorly, noticeable puddling
How can I determine the soil name?
If you need assistance determining the name of your soil, visit the USDA's Web Soil Survey.
When you arrive on the page, click the green button that says "Start WSS". From there you should enter your address under the Quick Navigation panel on the left side of the screen. On the Area of Interest tab, use the tools at the top of the map to highlight the area you are sampling. Then select the Soil Map tab. The soil code and names should be listed in the left panel. If multiple soil names are listed, use the one that makes up the highest percentage of the soil.
What tool can I use to take the soil sample?
Stainless steel probes or augers are best because they collect a continuous core through the entire sampling depth with minimum disturbance to the soil. Be sure they are clean and free of rust. Avoid brass or galvanized tools or containers that can contaminate samples with zinc or copper. Avoid shovels or trowels.
How much soil is needed?
You'll want about ¾ – 1 pint of soil. Your sample should consist of 10-12 cores or samples from different areas. Put all cores into a large container, such as a clean bucket, and mix them together. Select your ¾-1 pint of soil from the mixed sample.
What are Solvita CO2 Burst, SLAN, and VAST? When are they needed?
Solvita CO2 Burst, SLAN, and VAST are analyses used to measure soil health. A soil health assessment is a comprehensive analysis of the soil that measures attributes associated with physical, chemical, and biological processes.
Solvita VAST (Volumetric Aggregate Stability Test) is a physical assessment of soil health. It measures the quality of soil structure or "tilth". Soil structure determines infiltration of rainfall, water-holding capacity, air movement, rooting depth, and soil productivity.
Solvita SLAN and CO2 Burst are biological assessments of soil health. Solvita SLAN (Solvita TM Labile Amino Nitrogen) measures organic nitrogen compounds easily mineralized or made available as nutrients for plant growth. CO2 Burst measures active respiration by soil microorganisms in lab incubation of wetted soil samples over 24 hrs. Higher numbers indicate viable diverse populations and more organic matter to feed organisms.
For a proper assessment of your soil's health, add (860) Solvita CO2 Burst, SLAN, and VAST to any analysis as a supplemental service. Soil samples should be taken every 3-4 years, ideally in the fall.
If you have other questions about soil sampling or analysis, contact our Customer Support team at [email protected] or call 607-375-9962.